Promoting exports to International NGOs
03.

10.2023
10:00
-

03.

10.2023
12:00
Science Park Tehnopol
Tallinn Science and Business Park Tehnopol, Saturn, Teaduspargi 6/1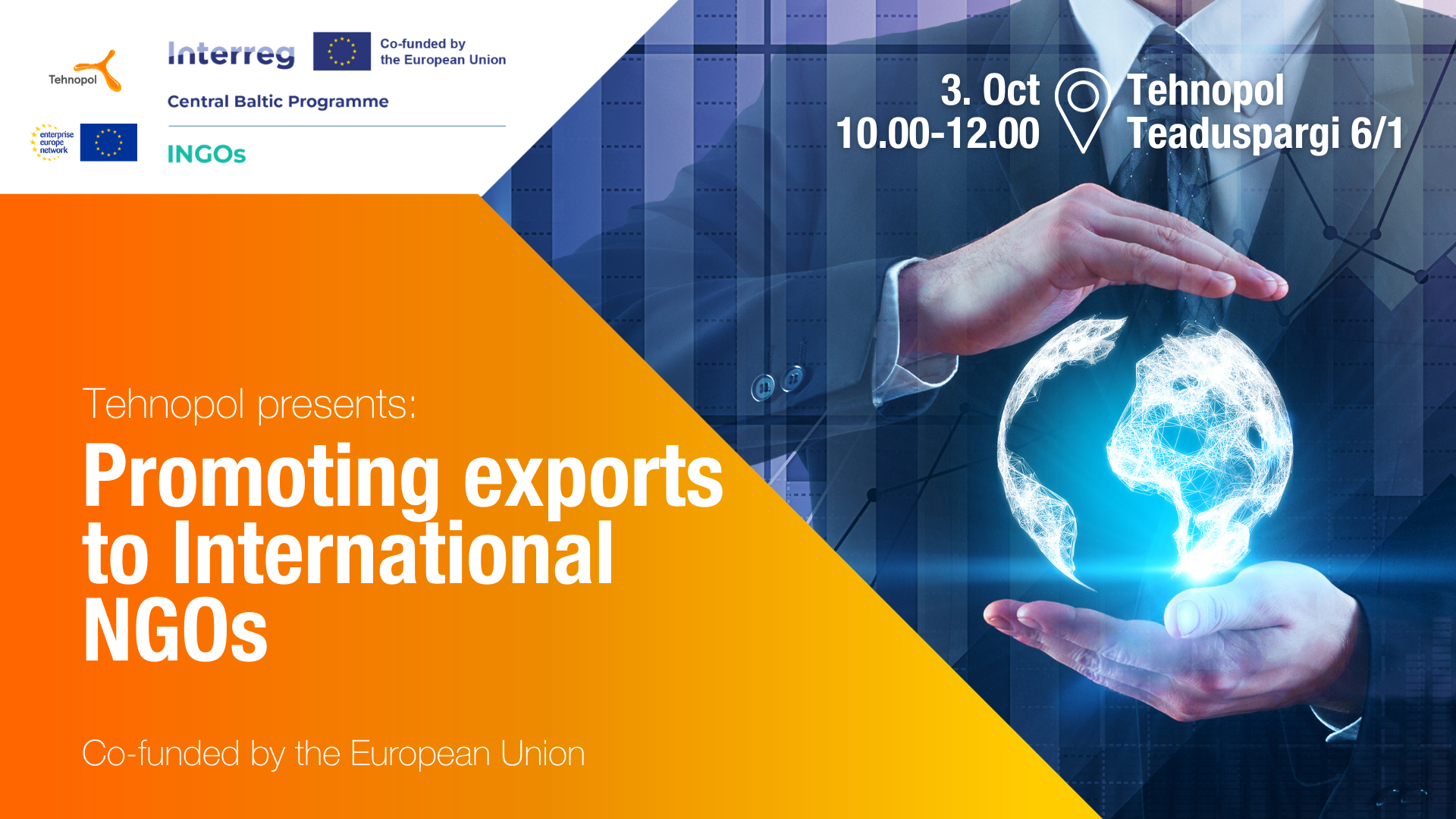 Join us for an enlightening event on October 3, 2023, from 10:00 AM to 12:00 PM (EEST) as we embark on a journey to empower small and medium-sized enterprises (SMEs) in the Central Baltic region to tap into the vast 20-billion-dollar annual market of procurements from renowned international NGOs and intergovernmental organisations such as the United Nations, Red Cross, IMF, the World Bank etc.
Event Highlights:
🌐 Unlocking Opportunities: Learn about the immense potential and possibilities for your company to enter the procurement processes of international NGOs, intergovernmental and other organisations. More info about CERN and ESA procurements.
🚀 Successful Bidding: Gain insights and strategies for successful bidding, ensuring your company stands out in the competitive landscape.
🤝 Networking: Connect with project partners and fellow SMEs experienced in this field, fostering valuable collaborations and knowledge sharing.
✈️ Global Exposure: Discover how a select group of SMEs will be taken to international NGO events, providing firsthand exposure to open calls, NGO representatives, and opportunities to present innovative solutions.
🌟 Mentoring and Support: Understand how the project will work closely with a range of NGO innovation and incubation programs, offering mentorship to SMEs from the Central Baltic area to successfully enter these programs.
🌎 Global Impact: For international NGOs and stakeholders, this project presents a neutral partner with a dedicated budget, aimed at facilitating communication and introducing innovative solutions to NGOs. Our project consortium spans four different countries, ensuring a broad and inclusive approach.
Event Details:
📆 Date: October 3, 2023
🕙 Time: 10:00 AM – 12:00 PM (EEST)
📍 Location: Tallinn Science and Business Park Tehnopol
About Us:
The "Promoting Exports to International NGOs" project is a 3.5-year initiative funded by the Central Baltic Interreg Programme. Our partner consortium includes Turku Science Park and Business Tampere from Finland, Tallinn Science and Business Park Tehnopol from Estonia, Latvian IT Cluster, and RISE from Sweden.
Contact Information:
For more information or to RSVP for this event, please do not hesitate to contact us at katrin@tehnipol.ee
Register