24.04.2018
Get your pitch perfect with Gleb Maltsev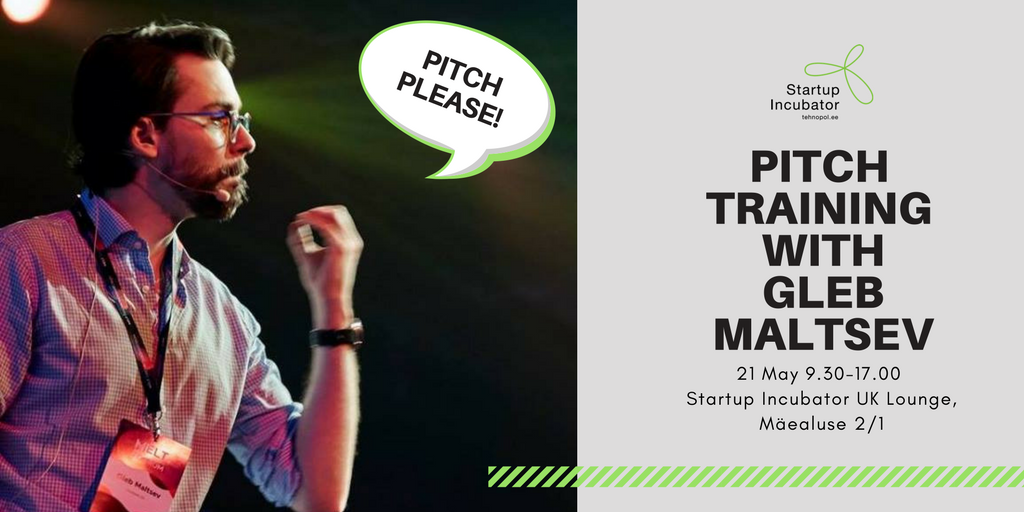 Just as everyone can sing in the shower, we are also very good at explaining to our friends the next great idea. However, if you are put in front of an audience, how to deliver a pitch that is equally catchy as well as memorable. Right before Latitude59, on the 21st of May at 09.30am, Tehnopol Startup Incubator will give you the opportunity to participate in a full day pitch training with Gleb Maltsev.
Get a first-hand insight to some of the following topics:
How to use your one-time opportunity with a potential investor and present an Oscar-worthy pitch?
How to handle being grilled by an investor?
How to have meaningful conversations during matchmaking?
What if someone gives you the tough cookie – how to bite through tough questions?
Our trainer, Gleb listens to around 900 speeches a year ranging from a 60-second pitch to a 45-minute keynote. He's trained presenters for industry-wide pitching showcases such as Slush, Latitude59, TechChill and LOGIN. He's the co-founder of Fundwise, a founder-to-investor pitching platform with a 65% success rate and raising over 889K EUR for over a dozen projects. Every year he works with executives from almost every industry that would make the world a bit better, or at least have a shot at doing so. Around a 100 of those execs have gone on to pitch at trade fairs such as the Mobile World Congress, Smart City Expo, conhIT, boot Düsseldorf, Bygg Reis Deg, or BAU.
Agenda:
09:30 – 10:00 Morning coffee, snacks (networking).
10:00 – 11:45 Fundamentals, performance, delivery, technique
11:45 – 12:00 Coffee break
12:00 – 12:30 Pitch content generation session
12:30 – 13:00 Lunch (reflection and discussion) – we can book an area in restaurant Mets (on the 1st floor)
13:00 – 13:15 Warm-up session
13:15 – 14:00 Pitching and feedback
14:00- 14:15 Coffee break
14:15 – 15:15 Second draft analysis and writing
15:15 – 16:00 Individual case analysis and coaching
16:00 – 16:45 Natural networking (how to handle grilling and tough questions?)
16:45 – 17:00 Closing of the day
Want to perfect your pitch? Register here.
For Startup Incubator portfolio, this event is free. For others, the full day workshop is 125€+VAT.
See also Facebook event here.
For additional information, contact Startup Incubator Community Manager Triin Ilves
+37255674563